Michael Landon's Successful Career
There aren't a lot of television shows that talk about life in the North American grasslands and that have become as popular as Little House on the Prairie. The Ingalls family was so relatable and endearing that audiences found good joy in seeing how the members of the household interacted with each other. Among the Ingalls, the one that could be depended on was "Pa" Charles Ingalls who was the man of the house and who was portrayed by Michael Landon. From his role as Charles Ingalls, Michael Landon became a true American icon who both surprised and endeared his fans because of the on-the-edge lifestyle that he lived in real life. Michael Landon was not just a celebrated actor on TV and on the big screen – he was also a good writer, director, and producer. Some of the other shows that Michael Landon was part of include Bonanza, which aired from 1959 to 1973, and Highway to Heaven, which lasted from 1984 to 1989.
How did Michael Landon die?
Michael Landon lived life passionately and ferociously. He was open about his addiction to smoking and alcohol. At the age of 54, following episodes of tremendous headaches during a skiing trip, he was told that he had an aggressive form of pancreatic cancer. He succumbed to the disease. He did try his best to fight his cancer, and he came out in the open and even agreed to have people interview him about his plight.
Michael Landon – a short biography
How old was Michael Landon when he died?
Michael Landon died on July 1, 1991, at the age of 54 years old.
How many times was Michael Landon married?
Michael Landon was married three times.
Was Michael Landon married when he died?
In his lifetime, Michael Landon was married thrice. His first marriage was with Dodie Levy-Fraser, which lasted from 1956 to 1962. His second was with Marjorie Lynn Noe, lasting for 19 years from 1963 to 1982. The last marriage was with Cindy Clerico, whom he wed in 1983.
Michael Landon pictured with his wife, Cindy Landon ❤️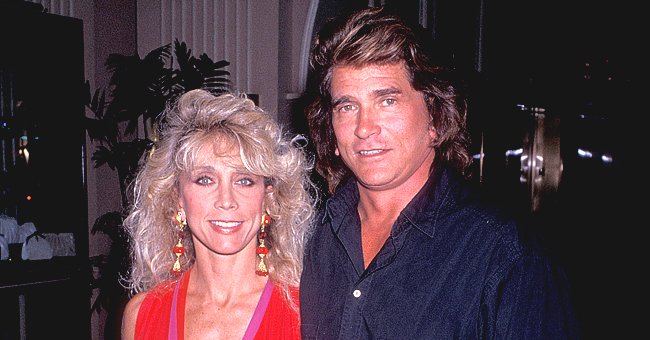 How many kids did Michael Landon have?
Michael Landon fathered 9 children from his marriages. Their names are Mark, Josh, Cheryl Lynn, Leslie Ann, Michael Jr., Shawna, Christopher Beau, Jennifer Rachel, and Sean Matthew. Most of his children pursued careers in acting and filmmaking.
All of Michael's children & his widow, Cindy
What religion was Michael Landon?
Michael Landon was born to a Jewish father and a Roman Catholic mother. It is not clear what he practiced between the two, but it would be safe to assume that Michael Landon was Christian.
Why did Michael Landon leave The Little House on the Prairie?
Many of the episodes from The Little House on the Prairie were actually directed by Michael Landon himself. According to the actor/director, the show had to end since the young woman in the family, Laura, played by Melissa Gilbert, was all grown up. The formula of having a young, and now married, woman continuing to go to her parents for advice didn't cut it anymore. However, Michael Landon and the people behind the show were happy for the many years that the show was able to last.
Where was Michael Landon born?
Michael Landon was a New Yorker who was born and raised in Queens, New York. He is American.
How tall is Michael Landon and how much does he weigh?
Michael Landon stood 5 feet 9 inches or 175 cm tall. He weighed around 155 pounds or 70 kg.
How much is Michael Landon's net worth?
Michael Landon was said to have made around $10 million in net worth as an actor and filmmaker.
Michael Landon Best Pics
Michael Landon's last appearance on The Tonight Show