Tina Louise Overview
Tina Louise (née Tina Blacker) is an American actress. This red-haired beauty is one of America's top beauty icons from the late 1950s all the way to the 1980s. She is best remembered for her role as Ginger Grant in the TV comedy show Gilligan's Island. Even before this role, Tina Louise was already a highly accomplished actress as she won a Golden Globe Award for New Star of the Year in the film God's Little Acre. Tina has had a long career as she worked as an actress for the big screen and TV from 1952-2004. She quit show business and returned later in 2014 before calling it quits again in 2017. From her sultry pictures as an up and coming actress and model when she was 18, to a career full of successes – Tina Louise is now [age birthday="02/11/1934″] years old. Tina's amazing looks and pouty lips matched perfectly with the mole on her left cheek. She was every man's desire and the envy of many women. In spite of her success, she did her best to change the reputation she made from the TV show Gilligan's Island as she sought other roles and endeavors.
What does Tina Louise look like now?
Tina Louise sports the same red hair and slender figure. One could see signs of her beauty as a young woman and actress by how well-spoken and eloquent Tina Louise is. She continues to look dazzling and amazing in pictures even today.
Snippet from the film, God's Little Acre, featuring the dazzling Tina Louise
What happened to Tina Louise?
There are many things that have happened to Tina. However, much of the news of her show business career, later on, revolved around her role as Ginger Grant in Gilligan's Island. The unique plot of Gilligan's Island is what drew viewers; however, people soon realized that what drew them to the show is how amazingly Tina played her role. Tina Louise did work and star in many shows prior to Giligan's Island; however, after taking a break and becoming a member of a particular acting agency, she didn't really expect much from the show at first. However, even as she portrayed the leading character of Ginger who was a glamour queen exceptionally well, she declined to return, having only one stint as Ginger from 1964 to 1967. According to Tina Louise, she didn't want to forever be branded as a glamour queen, believing that she had so much more to offer than her good looks and beautiful figure. In a 1996 interview, Tina Louise mentioned how she was working as a volunteer teacher for the New York public school system. She mentioned that she has kept herself in top shape by working out.
What is the nationality of Tina Louise?
Tina Louise was born in New York in a Jewish family. She is American.
How tall is Tina Louise and how much does she weigh?
Tina Louise is 5 feet 9 inches or 175 cm tall. She weighs around 120 pounds or 54 kg. This is a weight she had maintained for almost her whole life.
Is Tina Louise married or single?
Tina was married to Les Crane who was a popular radio and talk show host. The couple married in 1966 and parted ways in 1971.
Tina Louise with her husband, Les Crane back in 1969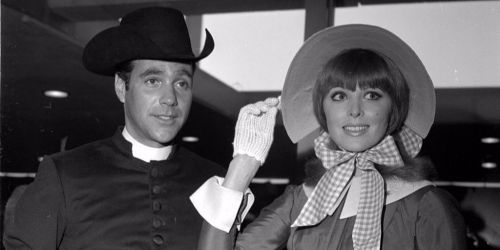 How much is Tina Louise's net worth?
Tina's long career in show business earned her a net worth of $6 million.
How many kids does Tina Louise have?
Tina Louise had one child with Les Crane. Her name is Caprice Crane. Like her parents, she also pursued a career in the entertainment business as she worked as a screenwriter and TV show producer.
When did Tina Louise die?
Tina Louise didn't die. She is very much alive and well with the kind of health regimen and lifestyle she follows. As a trivia, only one cast member apart from Tina from Gilligan's Island is still alive.
Tina Louise's Latest Tweets
Tina Louise Photo Gallery